In hot pursuit of your dream bedroom? So the trick for bedroom styling is to add something unexpected that catches the eye.
Something with upscaled proportion, a bit of daring. Something more you.
* Affiliate links are used in some (but not all) of our content. That means we earn a small commission if you click through and buy something from a website we recommend. You don't pay any more. No calculated whispers of love here – we only say "we love" if we really mean it, promise!
Whether your thing is books, plants or pompoms, inject a bit of personality into your bedroom styling to jump-start your decor. So we don't all have space for this stunning Anthropologie bed? But check out what's going on with that bedside table. A few outsize stems give drama and soften the metal bedframe. That's an easy re-style to steal, even if the four-poster is out of the question.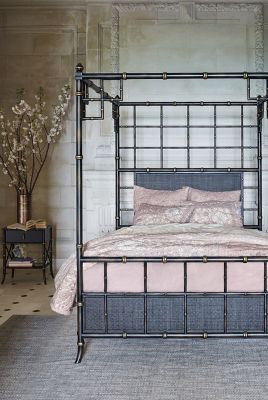 Hello fab lighting!
While it's tempting to concentrate your lighting budget downstairs, eye-catching lighting can have a big impact in the bedroom. This simple colour palette is livened up by texture and that oversized chandelier.
Meanwhile at Soho Home, this chandelier gives some icy charm to the warm furnishings.
Forget about a couple of matchy bedside lamps. Instead, provide some dramatic illumination. Try hanging a chandelier lower than you think is sensible, or as low as safety regulations allow. Or go all Victorian boudoir with jewelled glass pendants. You'll find plenty of both in store and online at the minute.
Shop for lights with personality
Where to shop for lighting with personality for bedroom styling? On the high street, check out Marks & Spencer. Seriously. The lighting department has beaded chandeliers, coloured glass shades and brassy beauties. They're all reasonably priced. You could surprise yourself by going in for some undies and coming out with a spectacular new light! Take a look at M&S lighting now.
Left-right:
Mila Chandelier – Marks and Spencer UK
Online, look at Amara. We love this Melt pendant. It's available in mini or big, and in gold, copper and chrome. You want big! We'll allow you to pick the metal yourself.
This brass and glass cluster pendant from French Connection would work superbly for bedroom styling, hung low over a bedside or off-centre above a dressing table.
And here's a great idea for getting your money's worth out of your new light – hang a good-sized mirror on a wall that catches its reflection. It gives you double duty for just one purchase.
See more great lighting buys and swoon here.
On your table bedroom styling
We're big fans of the occasional table at Roomy Home. You can make it work in the bedroom too, with just a little bit of space at the end of your bed. Think about an end table, bench or ottoman. The end table is a good spot to add some texture to your bedroom styling – think wood, velvet or rattan. This bench is a good option for making the most of your space, as the fine legs mean you see plenty of floor.
Choose a storage piece like this chest if space is tight.
On the other hand, if it's all about the style, check out this ottoman from Made.com. Perfect home for your silk pyjamas!
This table or bench is very much NOT a place to throw your dirty socks at the end of the day please! More a space for your marble tray of artisan coffee on a sunday morning and the latest novel. Decorating with strategically placed books is hugely under-rated. Here's what we're reading in our stylish bedroom.
Left-right:
Rockett St George Extraordinary Interiors
David Sedaris – Theft by Finding
If we decide we don't have room for an end table, we're going for this bedside one. The wood adds some texture, and there's room to stow away those books underneath.
WTF (what the furniture?) bedroom styling
Another useful bedroom styling trick is to throw in some slightly unexpected piece of furniture. Those 70s pieces have made a major comeback – think rattan and macramé. If you can't wait to find that special something in an auction or charity shop, then head over to Not on the High Street for this rattan peacock chair. It's unexpected, surprisingly useful, and has loads of personality.
OTT accessories
Finally, why not add a few finishing touches? Giant plant anyone? It's a reasonably budget-friendly update with major impact.
Image: Amara.com
Anyone's spirits not lift at the sight of a tassel or pompom? Or something squashy in fur or pinched velvet?
For a shot of colour, look no further than this textured beauty. Corner tassels too!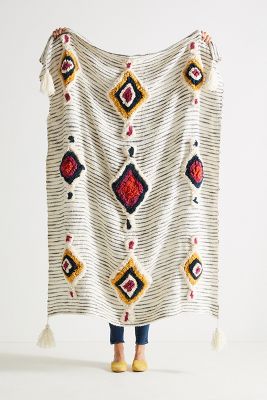 Why not try one of these ideas to lift your bedroom styling from bland to remarkable? Click here to see more home shopping updates.
Word of warning. Tempting, but probably best not to try them all. Understated quirky elegance can easily become overkill!
Looking for a new mattress?
The Leesa mattress gets rave reviews, and if you check it out through this link, you'll get £80 off. It's got so many things going for it – made in the UK, one mattress is donated to a good cause for every 10 sold, free delivery and you get 100 nights to try it out. Take a look at at the Leesa mattress here.
Shop for your dream bedroom
For more inspiration, check out Roomy Home's bedroom board on Pinterest.
SaveSave
SaveSave
SaveSave
SaveSave
SaveSave
SaveSave
SaveSave
SaveSave
SaveSave
SaveSave
SaveSave
SaveSave
SaveSave
SaveSave
SaveSave
SaveSave
SaveSave
SaveSave
SaveSave
SaveSave
SaveSave
SaveSave
SaveSave
SaveSave
SaveSave
SaveSave
SaveSave
SaveSave
SaveSave
SaveSave
SaveSave
SaveSave
SaveSave
SaveSave
SaveSave
SaveSave
SaveSave
SaveSave
SaveSave
SaveSave
SaveSave
SaveSave
SaveSave
SaveSave
SaveSave
SaveSave
SaveSave
SaveSave
SaveSave
SaveSave
SaveSave
SaveSave
SaveSave

SaveSave
SaveSave
SaveSave
SaveSave